Cosmetic Dentistry
Interested in Cosmetic Dentistry?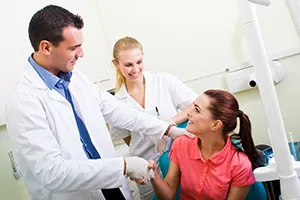 It is our pleasure and privilege to welcome you to our office. Although there have been numerous advances in dentistry of late, the most important element is still the relationship between doctor and patient. We wish to facilitate a comfortable, long-term, respectful relationship between our health care providers and our patients, instilling a confidence that you have chosen the best practice.
Co-diagnosis
Any treatment that is recommended is co-diagnosed, meaning that, you and your doctor decide how best to proceed. Treatment options, advantages, prognosis, materials and fees are thoroughly discussed to ensure your complete understanding and long-term satisfaction.
Aesthetic Dentistry
Are you considering a makeover? Why not start with your smile! The latest advances in cosmetic dentistry are available to you at our practice. By correcting or improving the shade, shape, spacing, height or width of your teeth, your smile can be transformed into your best asset. Our skillful professionals using state-of-the-art technology and materials deliver superb results that are sure to please. Arrange for a private consultation to discuss your beautiful smile!
Teeth Whitening
Your teeth become stained naturally as a result of the food and drink that you consume. Teeth whitening uses an ingredient to effectively lift the stain from deep within your enamel. The result is a whiter, more youthful smile! We offer 2 methods of this popular treatment. Our in-office system using a state-of-the-art activation light
yields results in about an hour. Our convenient take home system can be used during the day or night and yields maximum results in about 10 to 14 days.
Crowns and Bridges
A dental crown is a protective covering that is bonded or cemented onto your tooth. It is custom made in a dental laboratory by highly qualified technicians using ceramics, noble alloys or a combination of both. A dental crown may be recommended for a tooth that has a large filling, a root canal or a fracture. A bridge is simply 3 or more crowns linked together. A bridge is recommended to replace a missing tooth or teeth. A bridge helps provide a continuous chewing surface, keeps teeth from drifting out of position, protects teeth and improve aesthetics. Crowns and bridges are quality restorations and are an excellent investment in your long-term dental health.
Porcelain Veneers
Veneers are thin shells of porcelain that are bonded to the front surface of your teeth. Porcelain veneers are an excellent remedy for chipped, cracked, spaced, stained or misaligned teeth. Dramatic results can be achieved in as few as 2 appointments. Porcelain veneers are considered long-term restorations that strengthen, protect and enhance the beauty of your smile.
Preventive Dentistry
This involves taking action to prevent a condition from developing or worsening. Removing plaque from your teeth by brushing and flossing prevents plaque from hardening into tartar. Having your teeth professionally cleaned on a regular basis is one of the easiest ways of practicing preventive dentistry. Our hygienist will custom recommend a schedule of appointments and home care regimen designed to prevent the advance of gum disease and preserve your healthy smile for years to come. All aspects of dental care prescribed in this office are based in prevention.
Rejuvenating Your Smile
Even the loss of one tooth can result in the tipping, drifting and erupting of neighboring and opposing teeth. The loss of several teeth can result in the inability to chew and speak effectively. It can also lead to the collapse of your bite causing stress on your jaw joints, facial muscles and a reduction in the vertical dimension of your face. This can create an older facial appearance with noticeable facial lines.
Dental Implants
A dental implant is a small titanium post that is surgically placed in the jawbone. Following a period of healing, it will act much like the root of a tooth over which a dental crown will be placed. Teeth implants can support a single dental crown, long span bridges and are often used when rehabilitating an entire dentition. They are considered long term restorations and provide excellent results that are comfortable, natural-looking and high-functioning. Clear
Invisible Clear Braces
One of the most innovative advances in dentistry is the ability to straighten your teeth without traditional metal brackets. We use a series of clear, plastic, removable "aligners," which are computer generated to gently and progressively alter the position of your teeth until they are correctly aligned. Our patients are seen smiling as much during treatment as after treatment! Ask us if "invisible braces" are right for you.
New Patients
The trust you place in our practice by the referral of family and friends is our greatest compliment. We are delighted when a patient refers us and promise to extend the same high-level service you have come to expect.
Lumineers
LUMINEERS is a terrific cosmetic solution for permanently stained, chipped, discolored, misaligned teeth, or even to revitalize old dental crown and bridgework. LUMINEERS are porcelain veneers that can be made as thin as a contact lens and is placed over existing teeth without requiring painful removal of sensitive tooth structure (unlike traditional veneers.)

LUMINEERS can only be made from patented Cerinate porcelain. This revolutionary porcelain is crafted through a proprietary process unavailable anywhere other than the Cerinate Smile Design Studios owned by Den-Mat Corporation. In just two or three visits to the dentist, LUMINEERS provides a custom-made smile clinically proven to last up to 20 years.

Permanent, Pleasant, Painless

For More Information Go To: www.lumineers.com
Snap-on Smile

Snap-On Smile offers a simple, life changing solution for many patients of all ages: those with crooked, stained or missing teeth or with gaps, patients who are not candidates for implants or bridges, people undergoing full-mouth reconstruction or dental implant procedures, patients who want to avoid shots or drilling, as well as those who simply want better functioning teeth quickly. Thousands of patients worldwide have already experienced the benefits of Snap-On Smile.

The process is quick and painless. Your dentist will take photos and impressions of your teeth. You choose from different smile designs and shades for your Snap-On Smile. In about two weeks, the exclusive lab at Snap-On Smile will create and send your dentist a new appliance for final insertion.

Our cosmetic dentistry patients visit us from Sandy, South Jordan, West Jordan, Riverton and Salt Lake City in Salt Lake County, Utah.
Interested in Cosmetic Dentistry? Call Salt Lake Smiles West Jordan, UT
at (801) 568-0172 for more information!